Baroness Frances O'Grady: Bill flies in the face of human rights, equality & ILO conventions
Speech to the House of Lords 08/06/23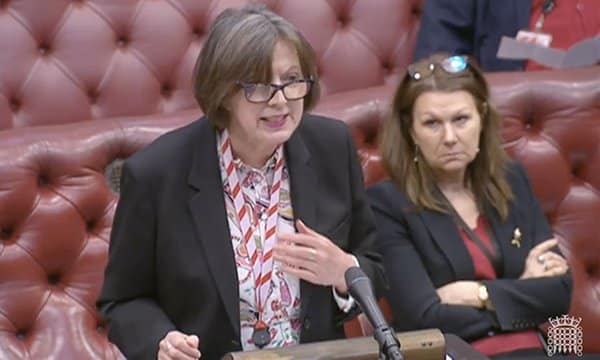 Baroness O'Grady, moving amendment C1:
[At end insert "and do propose Amendment 4B in lieu—
4B: Page 4, line 40, at end insert—
"234CA Protection of employees
(1) A person is not subject to a work notice if they have not received a copy of it in accordance with the time limits specified in section 234C(3). (2) It is for the employer to prove that the work notice was received in conformity with subsection (1).(3) An employee may not be dismissed or subjected to any detriment for failing to comply with a work notice and any such dismissal shall be treated as a dismissal to which section 152 applies and any such detriment shall be treated as a detriment to which section 146 applies.(4) A work notice does not place a contractual obligation on an employee to comply with it.""]
"My Lords, this Motion seeks to uphold a principle long established in British law: that workers on strike are protected against the sack. Noble Lords will recall the concerns of the noble and learned Lord, Lord Judge, at Second Reading. He said that:
"this is a troublesome piece of legislation. It asks us all a very simple question: when does the right to withhold your labour … cease to be a right? It answers that question too … the right ceases when, following a ministerial decree, your employer can oblige you to work, and if you fail to do so you can lose your job".—[Official Report, 21/2/23; col. 1568.]
Not since the Second World War have a UK Government taken power to facilitate the requisitioning of people to work against their will. This would make the UK an outlier in Europe and flies in the face of human rights, equality and ILO conventions as reaffirmed by the Government in the EU–UK Trade and Cooperation Agreement. The Government have succeeded in uniting employers, unions, the devolved nations and service users against them. In the interests of transparency, I repeat that Labour is 100% committed to repealing this bad Bill.
My Motion returns to the core concern: that striking workers selected by the employer they are striking against can be forced to work or face the sack. Remember, this legislation would unilaterally change the employment contracts of potentially millions of people—and all through secondary legislation with no proper parliamentary scrutiny or accountability. Minimum service levels determined by a Secretary of State could be set up to 100% and require staffing levels to match. The union may have jumped every hurdle to secure a lawful ballot and the worker may have democratically voted to strike, but protection against the sack will be whipped away by an employer simply putting their name on a piece of paper. The worker may not even have received the work notice; there is no obligation on the employer to make sure that they do. Their automatic protection against dismissal will be annulled. This is manifestly unjust.
Remember, too, that minimum service levels apply only to strike days. For the rest of the year, a Secretary of State can close fire stations, see rail services fail, see asylum seeker backlogs grow, increase class sizes and let NHS waiting lists—shamefully now at 7.3 million—soar. I have listened carefully to the debates in both Houses. Ministers are trying to sweep the issue of sackings under the carpet.
On 10 January, the then Business Secretary Grant Shapps said it was wrong to frighten people about their jobs. The Minister has said on many occasions, including on 21 February:
"This legislation is not about sacking workers".—[Official Report, 21/2/23; col. 1563.]
On 22 May, the Under-Secretary of State told the House of Commons that
"nobody will be sacked as a result of the legislation".—[Official Report, Commons, 22/5/23; col. 103.]
The official reason from the Commons for rejecting my original amendment is that
"for the legislation to be effective, it is necessary for there to be consequences for an employee who fails to comply with the work notice".
So the consequence of exercising the human right to withdraw your labour is the removal of protection against unfair dismissal. In a free society, that is chilling. The very workers Ministers thanked for their heroism during the pandemic and stood on doorsteps to clap can be punished for striking with instant dismissal.
Key workers have already sacrificed so much for the rest of us. Unless the Government accept this amendment, Ministers now expect them to sacrifice their right to strike, or pay the price with their livelihoods. I sincerely hope that my amendment will be supported in this House and that it will give the opportunity for the Government to listen and think again. I beg to move."
You can read the rest of the debate on Hansard here.