Employment law update 2021
Our highly popular annual update on statute, case law and employment rights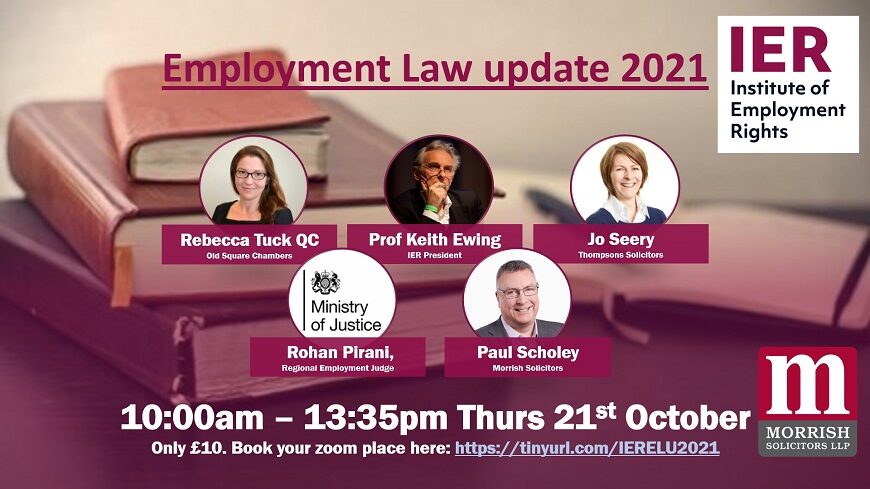 About this event
Our most popular annual event returns. To ensure everyone is as safe as possible, we've decided that this year we will host our update as a Zoom webinar.
Every year, the Institute of Employment Rights brings together lawyers, academics and campaigners to update delegates on the cases and legislation that have had the most significant impact on workers' rights over the past 12 months.
This year, the Coronavirus pandemic and building back better is inevitably the focus of the UK's changing workplace, and our annual update reflects this.
With the government's Job Retention Scheme due to come to an end in October, it is anticipated that many workers who were formerly furloughed will be let go by employers. The threat of redundancy, unemployment and economic uncertainty will doubtless come down to bite on many workers exponentially after this point. Low paid workers still in a position of employment are controversially being asked to pay more national insurance contributions towards the cost of adult social care, whilst higher earners are unlikely to notice a proportionate increase in deductions.
At this conference, our experts will focus on key cases during the pandemic in workplaces, how tribunals and the court system are currently operating, and how government changes to legislation have increased its powers to shift the balance of workplace rights.
Every registration for this event will also receive access to a recording of the event.
Speakers
The event will be chaired by our Director Carolyn Jones.
Rebecca Tuck QC, Old Square chambers – Employment law update overview 2021.
Jo Seery, Thompsons Solicitors – Uber
Rohan Pirani, Regional Employment Judge and CAC Duty Chair – Tribunals and courts: practice & procedures.
Paul Scholey, Morrish Solicitors – Cases from the plague year.
Professor Keith Ewing, IER – After Brexit: Trade and Co-operation Agreement, European Union (Future Relationship) Act 2020, and Workers' Rights.